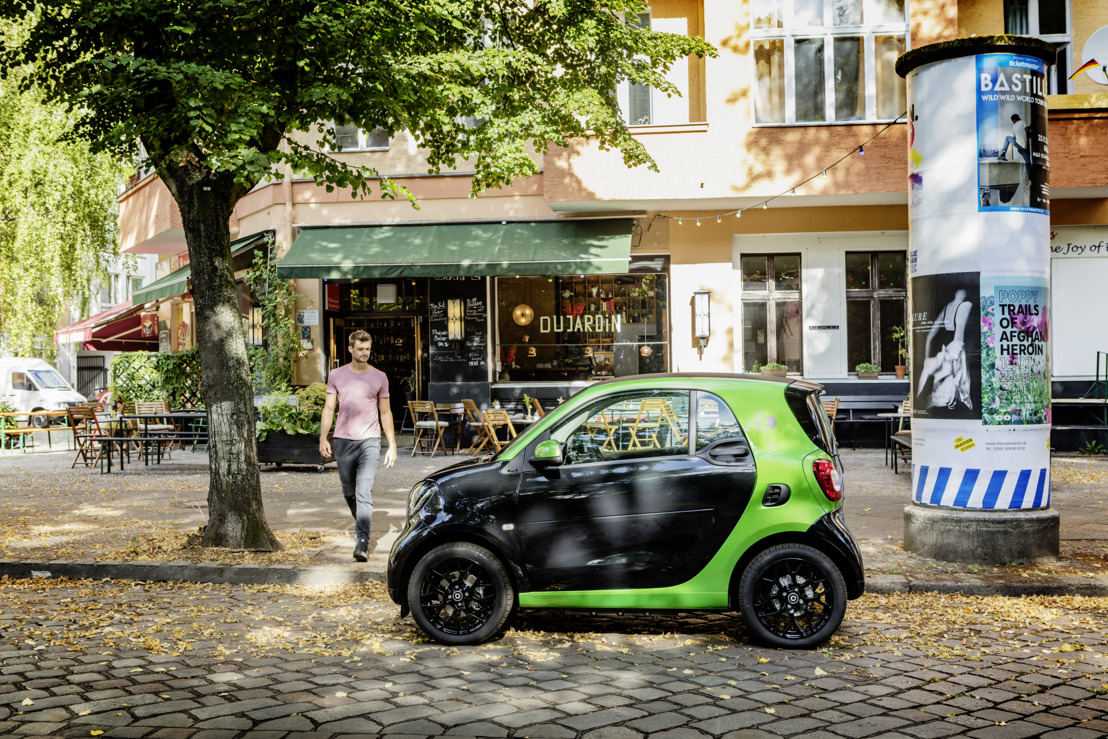 Think smart, drive electric
Test een van de nieuwe smart electric drive modellen en geef het goede voorbeeld!
Vrijdag 15 september 2017 — De Vlaamse wegen krijgen het weer zwaar te verduren nu het nieuwe schooljaar van start is gegaan en koning auto terug de drukke ochtend-en avondspits onveilig maakt. Voornamelijk de steden en randomgeving – niet toevallig daar waar school, werk en winkel gelegen zijn- krijgen af te rekenen met een overvloed aan fijn stof in de lucht. Maar het kan ook anders: met vele jaren ervaring achter de kiezen, biedt smart met zijn electric drives een ideaal milieuvriendelijk alternatief voor ritjes in en rond de stadskern. Omdat onbekend ook vaak onbemind maakt willen we jullie alvast de kans geven om enkele dagen met zo'n smart electric drive rond te cruisen en jullie ervaringen met de buitenwereld te delen. Geloof ons, je zal hem niet meer willen teruggeven!
Ondanks verschillende initiatieven rond de klimaatsverandering ziet het er niet naar uit dat onze luchtkwaliteit er de komende jaren op zal verbeteren. Ook de Vlaamse regering is volgens Greenpeace veel te laks in haar fijn stof beleid, en mocht afgelopen week een dagvaarding in ontvangst nemen wegens schuldig verzuim in haar aanpak van de luchtvervuiling.
Mission 2020 is een voorbeeld van zo'n initiatief dat onder andere doelstellingen aanreikt voor de mobiliteitsindustrie om meer en meer in te zetten op elektrische wagens. Voor de meeste mensen worden elektrische wagens nog steeds gezien als toekomstmuziek, maar niets is minder waar! Zo heeft autoproducent smart reeds vele jaren ervaring in het creëren van elektrische wagens en bundelen ze al hun kennis in de nieuwe smart electric drive modellen. De wagens staan garant voor een snelle en vlotte verplaatsing doorheen de stadskern mét ideaal reiscomfor, zonder je zorgen te hoeven maken over die vervuilende motor.
Omdat de Belgen nogal gekend staan om hun typische "bezint eer ge begint' mentaliteit, wilt smart jullie (influencers, journalisten, bloggers, vloggers,...) de kans geven om de gloednieuwe smart fortwo electric drive of smart forfour electric drive uit te testen door middel van testritten. Op die manier kunnen jullie het rijdcomfort van een elektrische wagen leren kennen, deze kunnen namelijk ook gemakkelijk een snelheid van 160 km/u halen!
De smart modellen zijn ideale reispartners om de eigen stad op een compleet andere manier te ontdekken, of erop uit te trekken in eigen land. Think smart, try electric!
Voor meer informatie over smart, kunt u terecht op de websites: www.media.daimler.com en www.smart.com
Indien je graag een gloednieuwe smart electric drive wil uittesten in kader van een (reis)reportage, blogpost, of indien het zou passen in een fotoshoot, geef me dan gerust een seintje. Laat me ook zeker iets weten als je een ander voorstel hebt voor een leuke samenwerking!
Groetjes,
Elke
Contacteer ons
Elke Hadermann
PR account manager
Laura Deploey
Account manager
Global Image PR
Laura Deploey
Account manager
Global Image PR
Céline Monbrun
Corporate Communication Coordinator & Press Relations smart
Mercedes-Benz Belgium Luxembourg
Céline Monbrun
Corporate Communication Coordinator & Press Relations smart
Mercedes-Benz Belgium Luxembourg